Saturday mornings are always meant to be a lazy sleep in affair at my house.  I look forward to them all week and always intend to lay around and sip coffee and read magazines blissfully on my deck.  People that is just not what happens.  We are up and happening as early as ever, running here and there, catching up on all the stuff we can't make time for, and in general trying to fit it all in.  I really have no idea why.  One thing I do really try to make time for is cooking something that takes more than one hand while I've got my husband around to wrangle the little one, and enjoying a little breakfast at a more leisurely pace.
This week I pulled out a favorite of my husbands, it always reminds him of home and his Grandma; those are my absolute favorite foods, the ones that smack of grandmas and childhood.  I have some favorites of my own, Grandma's green tomatoes and okra (don't judge!), apple cake with the apple freshly picked from her yard with a flashlight, incredible stuffing at Thanksgiving, chicken and dumplings, every single kind of meat imaginable being described as "beautiful."  I think I have Grandmas on the brain this week because this is coming up and  Thanksgiving I'm missing mine! Alas we wont see her this holiday we have to share with other family members, but this particular holiday really represents my grandmother to me, so I'll miss her especially much, and by Christmas when she comes to visit will be SUPER ready to see her! In any case, this is about Ionut's grandmother.  He was REALLY close to her, and has great memories and warm fuzzies of her cooking… so a Saturday morning breakfast of Grandmas Ricotta Dumplings were sure to please.
If we lived in Italy these would probably be called gnudi.  They're sort of like the inside of ravioli without the pasta jacket.  They have just enough flour to hold them together, any more and they won't be as soft and pillowy.  That's what we're going for here soft pillows of cheese with a hint of lemon.  They're grandma food so ugly is ok, even better maybe.  I served them as Ionut remembers with butter toasted breadcrumbs and a sprinkle of sugar but many eat them with sour cherry jam and sour cream (um yum) I really like them with fruit and cinnamon as well.  This time of year cinnamon apples would be the way to go!  There isn't much flour here it's mostly ricotta and egg, so its a great filling breakfast, although they're also great as a dessert, and if you forgo the sweet accompaniments and paired them with herbs ,spinach, or a savory sauce they are a great quick dinner.
 Grandma's Ricotta Dumplings
(Papanasi)
1 lb Ricotta cheese

1/2 tsp sea salt
1 tsp grated lemon zest
2 tsp + 3Tb cane sugar divided
1 egg
2 Tb flour (traditionally it might be farina instead of flour but… that makes it harder in my experience)
1/2 cup bread crumbs (I make my own from all the odds and ends leftover from bread that's why they look bigger and crustier than what you buy in the store)
2 Tb butter (grandma would have used sunflower oil)
Fruit, cinnamon, and whatever you'd like to serve this with!
Set a large saucepan filled 2/3 of the way with water on the stove over a high burner to boil.  Mix together ricotta, salt, lemon zest, 2 tsp sugar, and flour together to form a smooth mixture.  Once the water is boiling use  two soup spoons or if you'd like a very small ice cream scoop to form the dumplings.  (See the video below to see how I shape them!)
Drop each dumpling into the boiling water as you form them. (Just drop them off of the spoon into the water!) Boil the dumplings for 7-8 minutes.   As they cook they will float to the top, they need 5-6 minutes after they start to float to continue to cook.  If your pot isn't big enough for all the dumplings at the same time just do them in batches.
As the dumplings are boiling set a sauté pan on another burner over medium heat.  Add the butter to melt, and the breadcrumbs to toast in the butter.  When the dumplings are done take them out of the boiling water with a slotted spoon, and put them directly into the sauté pan with the buttered breadcrumbs.  Toss them around, and remove the coated dumplings from the pan.  Sprinkle with the remaining sugar just before serving.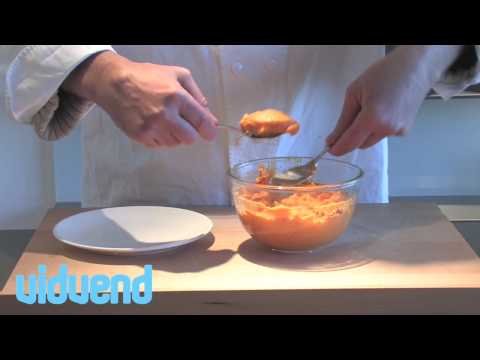 Like this recipe? Try another little bite of homey goodness here